Argenti tackle Croft for Round 5 of the British F4 Championship
26th June 2022
Phinsys by Argenti tackled the infamous Croft circuit for Round 5 of the ROKIT British F4 Championship, with Aiden Neate coming away with silverware after a win in Race One.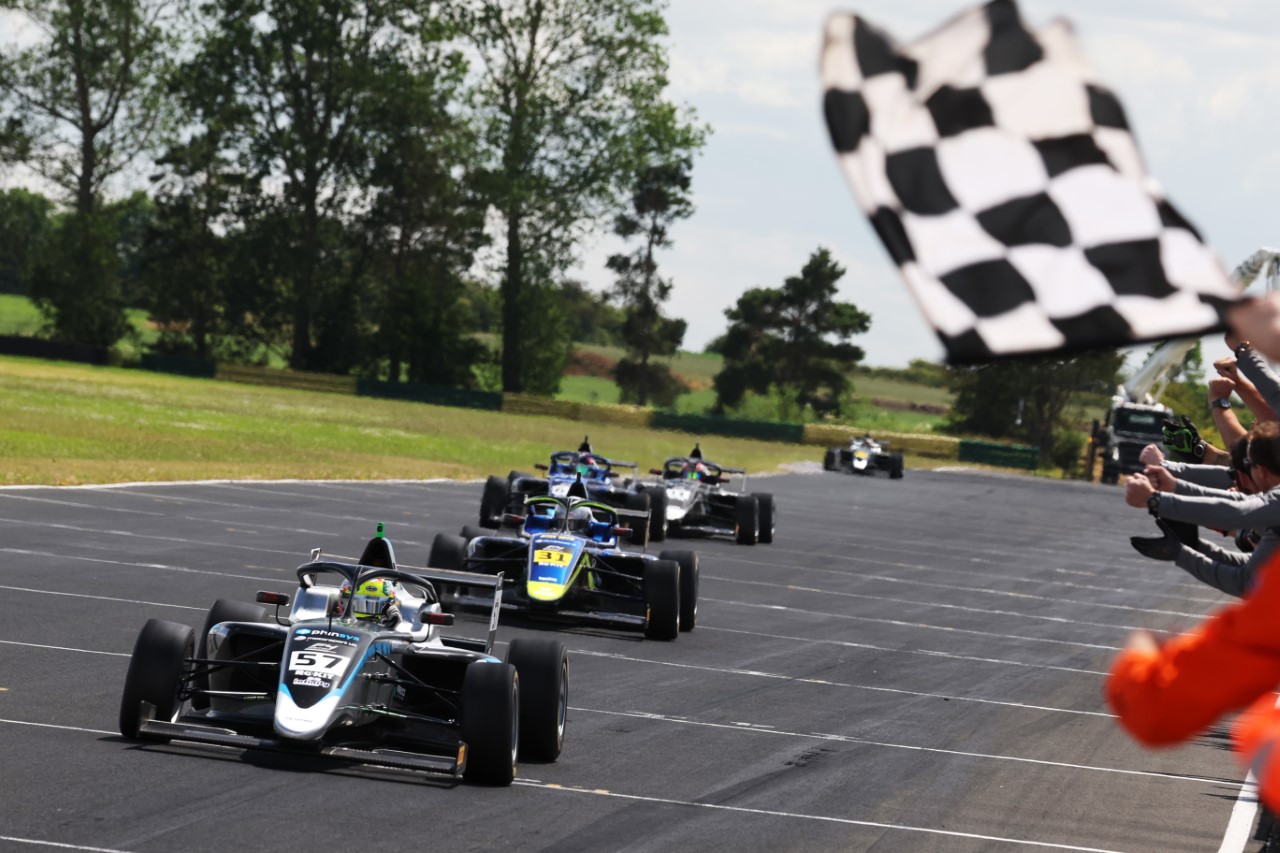 Team Argenti had a positive start to the race weekend, with #57 driver Aiden Neate qualifying in P1, achieving a best lap time of 1:17.178. Fellow teammate and rookie driver Daniel Guinchard battled it out close behind, managing to secure fourth place and only 0.107 seconds off Neate's pace. The mid-pack proved a challenging battle for Irish driver Adam Fitzgerald but came away from the qualifying session with a P11 finish.
Neate tamed the challenging Croft circuit once again in Race One, triumphantly crossing the line in pole position after a close race with Ugo Ugochukwu (Carlin) at the front of the grid. Mercedes-AMG Junior driver Guinchard showed great pace at the start, but with close competition in the mid-pack, it was a fight to climb up the grid. Nonetheless, Guinchard pushed on and finished the race in fifth place and second in the rookies, followed by Fitzgerald who showed consistent lap times and finished in P11.
In the reverse grid race, Neate raced ahead to challenge the front of the grid and raced passed the chequered flag in fourth place. Neate's teammates meanwhile were entangled in a battle further down the grid, with Guinchard sandwiched between Joel Pearson (Chris Dittmann Racing) and Edward Pearson (Virutosi Racing) in the latter period of the race, with Fitzgerald just behind the action. The #49 driver raced across the line in ninth place, followed by #88 in P11.
The battle on-track intensified for the final race of the weekend. Neate started the race in a very advantageous pole position that would allow him to race off ahead of his competitors. Guinchard was amongst the mid-pack in P7, and Fitzgerald just behind in P11. However, Neate's lead didn't last after being served a 30 second time penalty, and after a red flag incident and the race being concluded, Neate finished in eleventh place. Guinchard finished the race in P14 after an incident-on track. Amongst the intense racing, Fitzgerald managed to successfully climb up the grid to P7 and become the second fastest rookie of the race.
Croft proved to be a strong weekend for the team, achieving some positive results following Neate's impressive qualifying and later a win in Race One, as well as Guinchard showing great consistency in the first two races, being the second fastest rookie in both, in addition to Fitzgerald taking that second place in the rookie category in the final race.