Double Podium for Phinsys by Argenti
21 September 2021
Phinsys by Argenti continue to advance up the grid, as Argenti drivers Aiden Neate and Matias Zagazeta show great pace at Croft this past weekend (18-19 September) with a double podium finish.
It was a strong start to the race weekend at the iconic Croft circuit, with Aiden Neate racing ahead in qualifying to secure a fourth place start in Race One, with fellow teammate Matias Zagazeta closely behind Neate to finish the session in fifth. Further down the field, #36 car Eduardo Coseteng defended his position well to start in the top ten, just ahead of Marcos Flack in eleventh.
Race One was a challenging race, but Zagazeta powered ahead to cross the line in fourth, and Neate completing the race in seventh after an intense midfield battle. Coseteng once again secured a spot in the top ten, with Flack replicating his performance in qualifying to finish in eleventh. However, the reverse grid in Race Two favoured the ever-motivated Marcos Flack who secured a podium finish, with Matias successfully climbing up the grid to race pass the chequered flag in seventh and Eduardo Coseteng finishing in thirteenth. Unfortunately, it was a DNF for Neate in the second race.
In the final race, Zagazeta pulled away from the rest of the grid to challenge against pole sitter McKenzy Creswell, with Aiden Neate showing great pace and holding his third position on the grid. Zagazeta successfully sustained his second-place position right up until the chequered flag flew to conclude the racing at Croft, placing him at the top of the championship standings with a slim five-point lead. Impressive driving from Neate meant he achieved a podium finish, the rookie driver's biggest achievement in the British F4 championship to date. It was a difficult race for both Flack and Coseteng who got a DNF due to an incident during the race.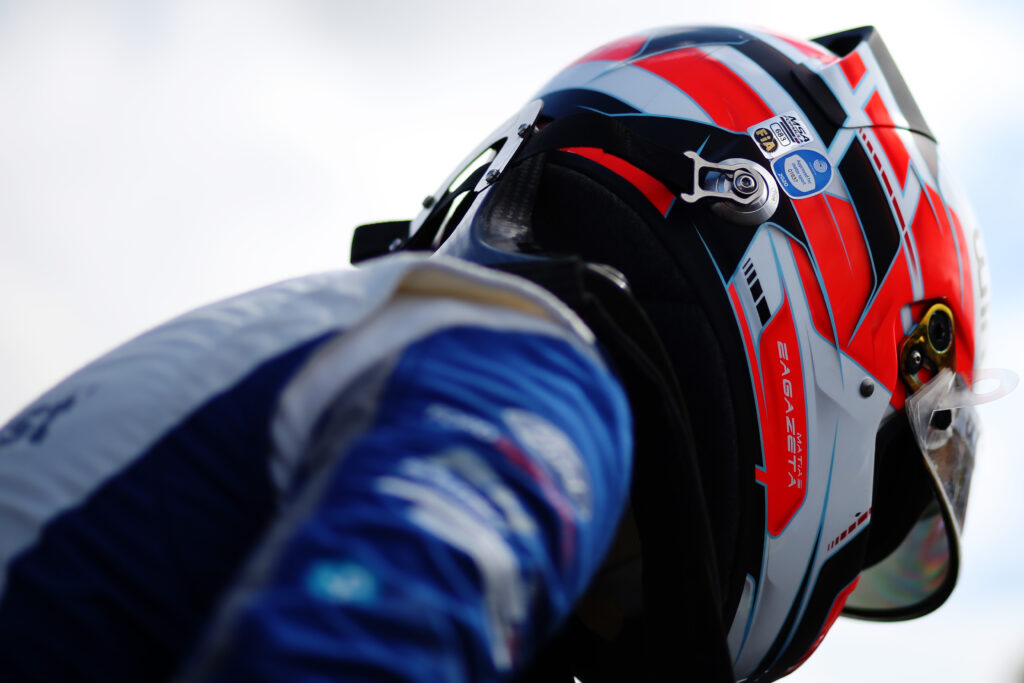 Matias had this to say about the race weekend at Croft and his current championship lead: "Very pleased with this weekend taking some good points in every race. The team has done a fantastic job all weekend and I can't be more thankful to each one of the guys! Now we're heading to Silverstone where we expect to keep on getting great results and collect some silverware and win some more races in the upcoming rounds."

Teammate Aiden Neate was thrilled with the results following the weekend, stating: "Last weekend [18-19 September] gave me my first podium finish of the season, so in that respect I'm really happy. A small issue prevented us from having an outstanding performance over all three races. However, the Argenti team did an amazing job at identifying and fixing the problem overnight. Every single lap I do in the car I feel more comfortable, and I know I can do a good job if I apply myself. I'm really excited to get straight back in the car this weekend and carry on the momentum into Silverstone [25-26 September]."

Michael Meadows, Team Principal of Argenti Motorsport, has this to say about the team's performance at Croft: "We had a strong weekend with all four drivers showing really good pace. The progress all the drivers have been making is great to see, and they can head to Silverstone confident. It's great that one of our drivers is leading the championship, but there is a lot of work to do, so we have to continue to fight."
The next round of the British F4 Championship takes place this upcoming weekend (25-26 September) at the home of British motorsport, Silverstone Circuit. Keep up with all the race action across our social channels and watch the final race on Sunday on ITV4.